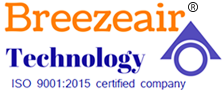 We are Manufacturer, Supplier, Service Provider of Industrial Chimney, Industrial Scrubbers and our setup is situated in Pune, Maharashtra, India. A chimney is a structure which provides ventilation for hot flue gases or smoke  from a boiler, stove, furnace or fireplace to the outside atmosphere. Chimneys are typically vertical, or as near as possible to vertical, to ensure that the gases flow smoothly, drawing air into the combustion  in what is known as the stack or chimney, effect. The space inside a chimney is called a flue.
---
The Breezeair Filter Assembly is a 16 gauge powder coated all welded/bolted steel enclosure fitted with top, bottom and end channels for holding in place pre-filters and high efficiency filters used for removing particulate matter and grease vapors from kitchen exhaust air. Cooking emission can become a neighborhood nuisance if not properly controlled. Visible smoke & odor may alert authorities to possible compliance.
An Breezeair filter assembly removes these concerns and CREATES CLEAN AIR! Designed especially for Light/Medium/Heavy duty commercial kitchens, the Breezeair filter assembly can be located at any point, indoor or outdoor, between the kitchen hood and the point of discharge of the exhaust air into the atmosphere.